A Modernized Civilian Conservation Corps
The original Civilian Conservation Corps (CCC)—a work relief program created as part of the New Deal in 1933—left a profound impact on the US economy, civilian workforce, and national and state park systems. Over the course of a decade, the CCC employed three million people on conservation and infrastructure projects, which resulted in the planting of more than three billion trees and construction of trails and shelters in more than eight hundred parks nationwide.
Last week, Senator Bob Casey introduced the REVIVE the CCC Act (S.2414), which would revive the CCC and create tens of thousands of jobs in Appalachia alone. This bill could create opportunities throughout the region and forge a fair recovery by drawing in returning citizens and other underserved populations.
You can watch a detailed panel we held with the Atlantic Council and the National Wildlife Federation with keynote speaker Senator Bob Casey on how this modernized CCC bill can benefit the Appalachian region.
---
ACTION OF THE MONTH: Tell Your Senator to Support Senator Casey's CCC Bill!
---
LOCAL GOVERNMENT OUTREACH
Want your local community to make the list? Our resources are here: reimagineappalachia.org/local/ or email local@reimagineappalacia.org for more information.
Do you know (or are you) a local elected official? Please check out our local elected officials portal! Talk to your local elected officials and encourage them to sign up with us here.
---
UPCOMING EVENTS: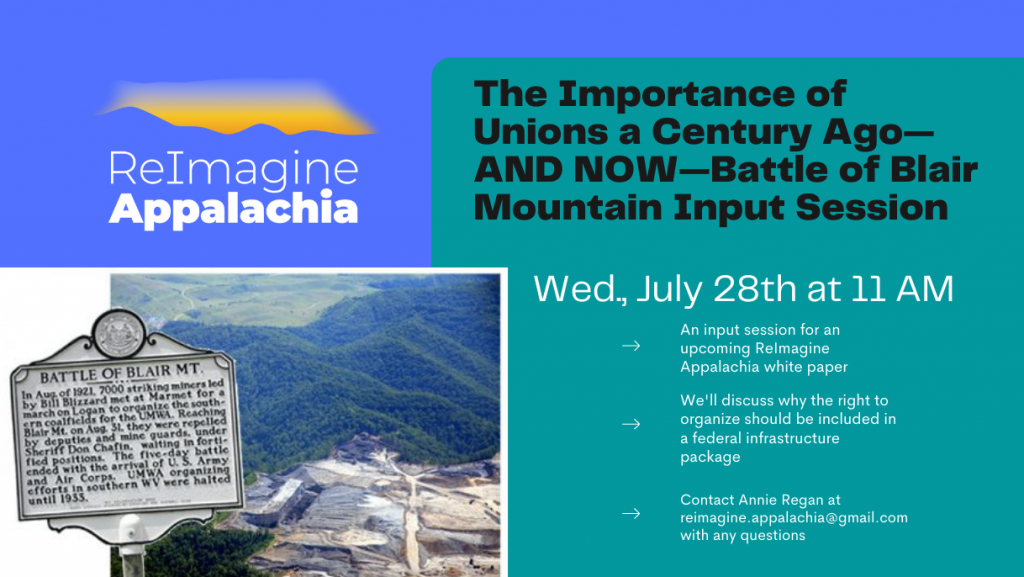 Please join us this Wednesday at 11 a.m. for an input session on an upcoming ReImagine Appalachia white paper entitled, "The Importance of Unions a Century Ago–AND NOW: Battle of Blair Mountain."
This paper will detail why the right to organize should be included in a federal infrastructure package. But we need your feedback and expertise to get it right!
---
Calling all local elected officials!
As conversations about federal infrastructure legislation advance, local communities have a once-in-a-lifetime opportunity right now to ensure our voices are heard. We need transformational community investment now.
We hope you join us for an inspiring hour to join local elected officials on Thursday, July 29th at 12:30 pm who will talk about how federal investment can impact what we see in our cities, towns, counties, boroughs, and villages every day.
Speakers:
James Dunn, Armstrong Township Supervisor Chair who will talk about how the ReImagine blueprint will increase quality of life, local tax bases, and economic opportunity in Northern Appalachia.
Patricia DeMarco, Vice President of the Forest Hills Borough Council will discuss the importance of proactive, local climate infrastructure planning as a means to increased federal investment.
Our local champions will reveal how billion-dollar federal and private investment in climate infrastructure can help our communities, and create thousands of good jobs for our neighbors in land conservation, clean manufacturing, and more.
---
Pennsylvania and the nation are faced with an incredible opportunity to build a sustainable, equitable clean energy economy. We need a passionate group of advocates like you to keep us moving forward.
Join Vote Solar, Reimagine Appalachia, PennFuture, and the Black Appalachian Coalition for a webinar discussion this Thursday, July 29th at 5:30 p.m. on the present and future of clean energy in the Commonwealth — plus how you can be the strongest possible advocate for the Pennsylvania we know is possible.
As coal demand continues to decline, we need to ensure that coal communities aren't left behind. Our panel of experts will discuss the unique needs of the Appalachian region, while also drawing on best practices from other states.
Whether you're just getting started on your activism journey, or want to deepen your understanding of Pennsylvania's clean energy landscape, there's a place for you in this conversation.
---
Join the leadership from Reimagine Appalachia, Keystone Research Center and PennFuture to get the latest updates on the campaign to pass an infrastructure bill that moves the Appalachian region into the future!

We'll update you on the latest content and activities from the campaign, including a Pennsylvania sign-on letter as well as what you can do during this August recess.
After registering, you will receive a confirmation email containing information about joining the meeting.
Please feel free to forward this email to your Pennsylvanian networks!
Join the PA State Table Facebook group for updates!
---
COAL COMMUNITIES COMMITMENT WEBINAR
The U.S. Department of Commerce's Economic Development Administration (EDA) announced $300 million in new funding opportunities to support economic revitalization in America's hard-hit coal and energy communities. Please join EDA for this webinar to learn more, including eligibility and how to apply for funding.
Register for this event on Thursday, August 5th from 2-3 p.m.
---
MEDIA HITS
---
COALITION MEMBER OF THE MONTH:
Molly Updegrove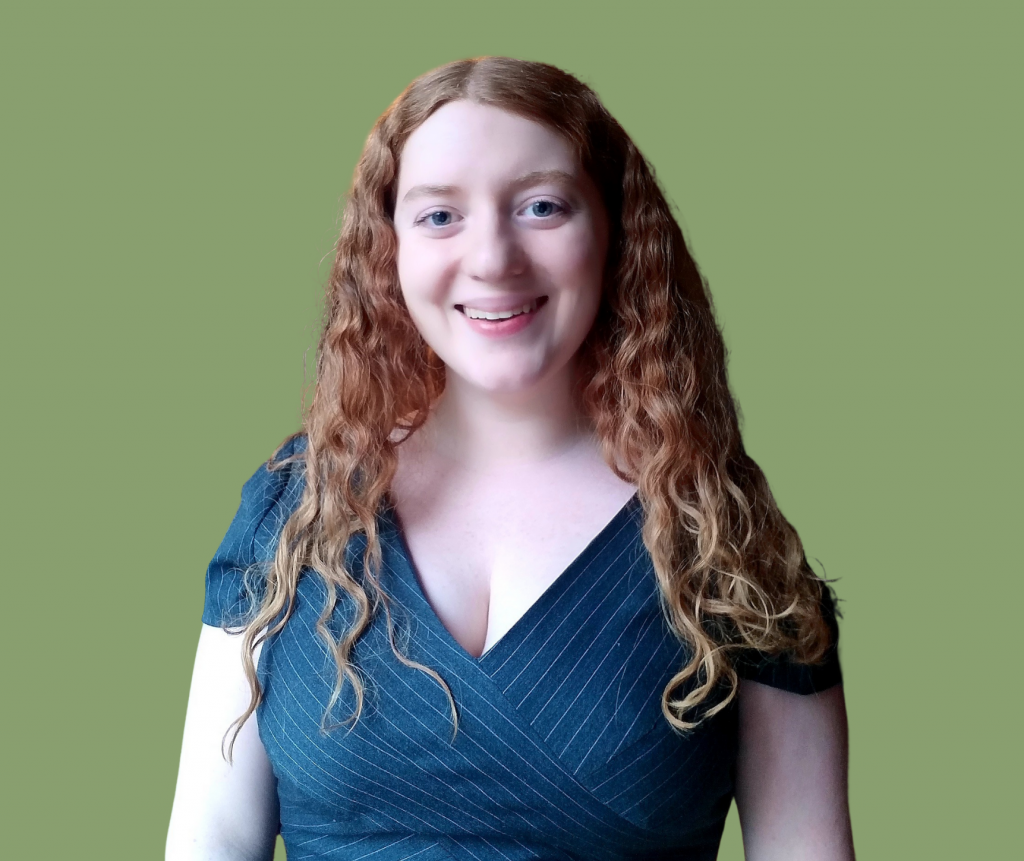 Molly Updegrove is the Outreach Director at ReImagine Appalachia. She has an educational background in macro-level social work and has worked with several non-profits including For Good PGH and Standing Firm, the business case to end partner violence. She has a background  in domestic violence awareness and advocacy and is currently a Public Policy Consultant for Women's Center & Shelter of Greater Pittsburgh. Passionate about the environment and communities of the Appalachian region, she is eager to begin public policy and community engagement work in a new arena. Molly is graduating in December of 2021 from the University of Pittsburgh with a Master's in Social Work, specializing in Community Organizing and Social Action. In her spare time, Molly enjoys spending time with her husband, especially outdoor activities, such as bird-watching, hiking, and kayaking.